Physical activity is one of the most common recommendations doctors give patients to optimize their wellness. When we work with patients from a body positive, weight neutral, or HAES™-informed perspective, exercise can be a sensitive or triggering topic, because our relationship with the gym as a culture is often tied with weight loss, dieting, and negative body image. We also find that many patients are intimidated by the gym, especially any kind of weightlifting/strength training, and they don't know where to start.
The good news is that I'm (Dr. Pickworth) preparing a video series with my strength coach to walk you through how to get started with weightlifting no matter your body size or medical history! That will be upcoming, pending gyms reopening at higher capacity soon. In the meantime, we (Dr. Pickworth & Dr. Corn) wanted to take some time to outline why we recommend strength training for every type o' body out there.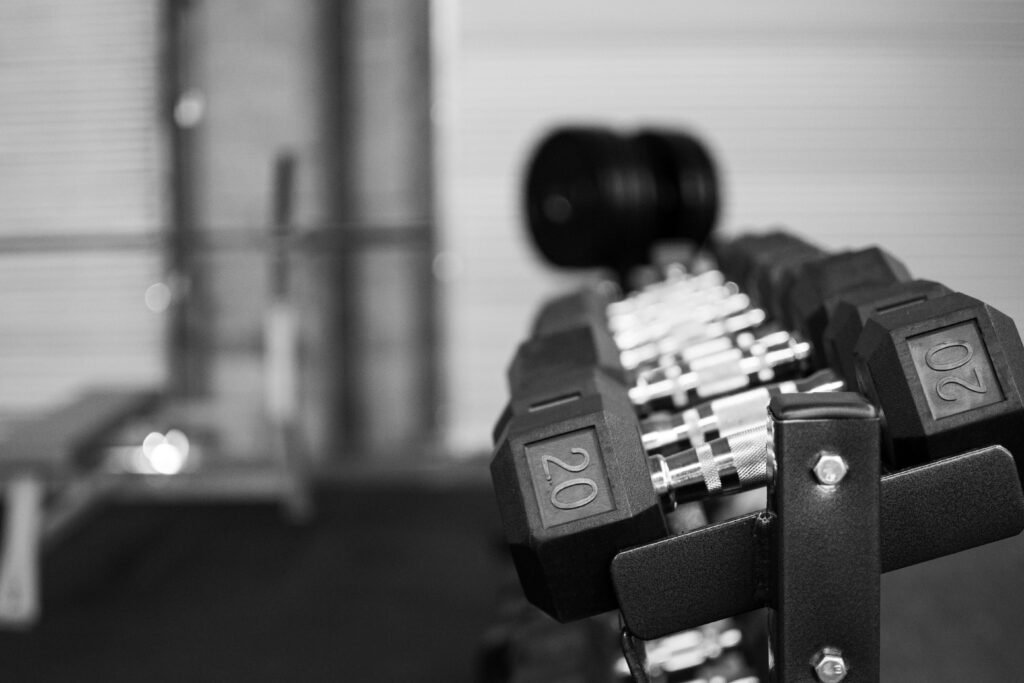 Why? There are SO many reasons to invest the time and energy into learning about and starting to lift weights, including benefits to both your physical and mental health! Let's explore them below.
Physical Health
Probably the most obvious, unsurprising benefit of weightlifting is that it can improve your physical health. Studies have shown that regular weightlifting, resistance training, or strength training has the following benefits to your physical health and wellness:
Improved insulin sensitivity (i.e., lower risk of developing diabetes or improving your elevated blood sugar or insulin)
Higher HDL cholesterol (the protective kind that we often want to increase!)
Reduced risk of some cancers
Lower risk of physical injuries
Improved bone density, especially in women
Better mobility and flexibility, especially in older adults and adults with heart disease
Longer overall life span/expectancy
That is a super impressive list! Most of these benefits come from the development of lean muscle mass, which influence metabolism. Some of the other benefits are to the cardiovascular system.
Mental Health
Our patients also know how important maintaining mental health and wellness is. Engaging in strength training has evidence-based benefits to our mind, too! Here are some of the ways weightlifting can contribute to better mental health:
Improved anxiety symptoms
More overall energy
Better perceived body image and physical appearance, regardless of weight or body composition
Improved cognitive function, especially in older adults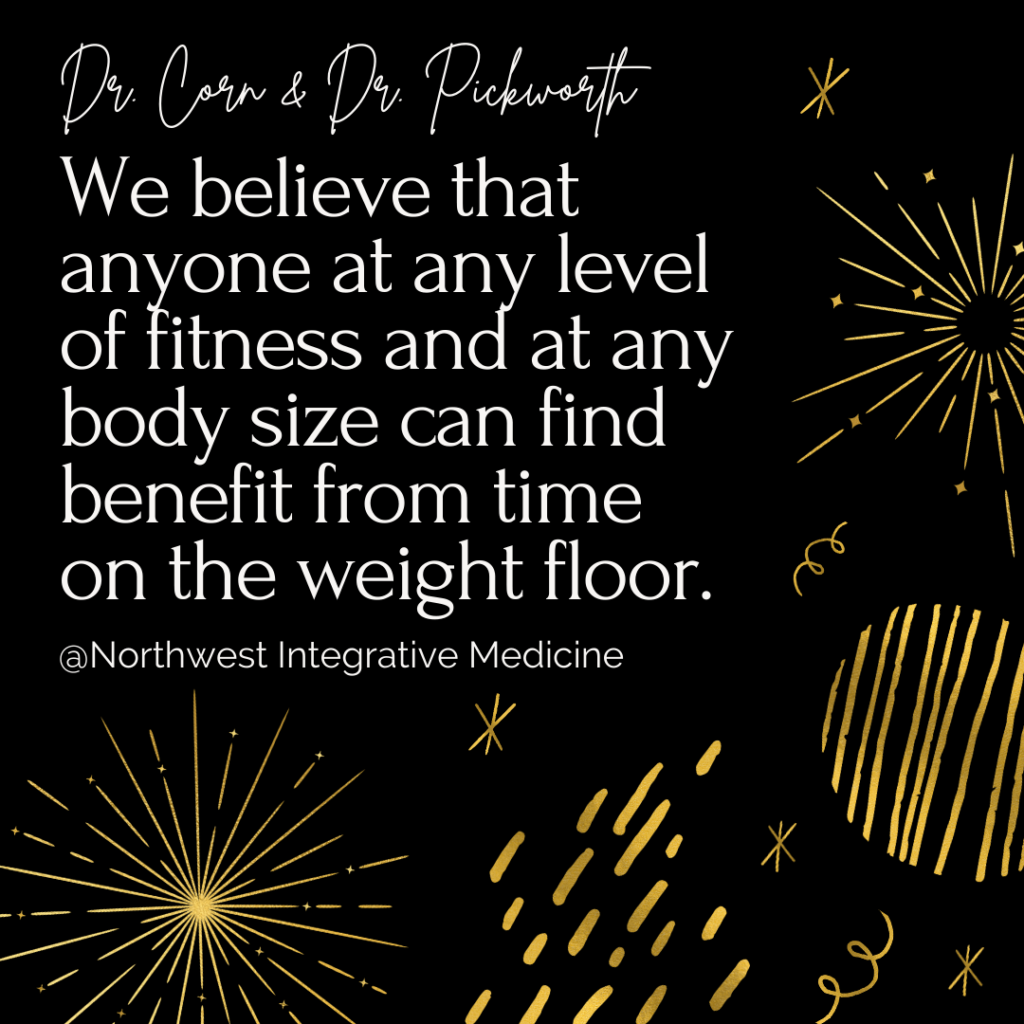 If the physical benefits aren't convincing enough, we bet the mental benefits are! We suspect there are even more benefits, but there is only so much room in one blog post. 😊
As you can see, there are so many reasons to hit the gym or set up a mini-home station and start strength training. We believe that while everyone can benefit from this kind of movement, it's also very real that the weight section at the gym can be intimidating. Getting in touch with your physical strength can feel so powerful – there is nothing like moving heavy weights to remind you that you are strong and tough! Sometimes that means starting small with lower weights but you'll be surprised how quickly you move up. We believe that anyone at any level of fitness and at any body size can find benefit from time on the weight floor.
If you feel intimidated by or anxious about starting to lift weights, we have your back! Dr. Corn and myself, the two body positive medicine providers at NWIM, are happy to support you through your entire movement journey. Schedule a visit with either of us to discuss how weightlifting might fit into your life or body positive journey— and watch out for the intro series featuring Dr. Pickworth coming soon!
Big virtual hugs,
The Body Positive Medicine Team
Dr. Katie Pickworth & Dr. Josh Corn
Northwest Integrative Medicine
References
Black LE, Swan PD, Alvar BA. Effects of intensity and volume on insulin sensitivity during acute bouts of resistance training. J Strength Cond Res. 2010;24(4):1109-1116. doi:10.1519/JSC.0b013e3181cbab6d
Sarin HV, Ahtiainen JP, Hulmi JJ, et al. Resistance Training Induces Antiatherogenic Effects on Metabolomic Pathways. Med Sci Sports Exerc. 2019;51(9):1866-1875. doi:10.1249/MSS.0000000000002003
Ullrich IH, Reid CM, Yeater RA. Increased HDL-cholesterol levels with a weight lifting program. South Med J. 1987;80(3):328-331. doi:10.1097/00007611-198703000-00013
Mazzilli KM, Matthews CE, Salerno EA, Moore SC. Weight Training and Risk of 10 Common Types of Cancer. Med Sci Sports Exerc. 2019;51(9):1845-1851. doi:10.1249/MSS.0000000000001987
Watson SL, Weeks BK, Weis LJ, Harding AT, Horan SA, Beck BR. High-Intensity Resistance and Impact Training Improves Bone Mineral Density and Physical Function in Postmenopausal Women With Osteopenia and Osteoporosis: The LIFTMOR Randomized Controlled Trial [published correction appears in J Bone Miner Res. 2019 Mar;34(3):572]. J Bone Miner Res. 2018;33(2):211-220. doi:10.1002/jbmr.3284
Yamamoto S, Hotta K, Ota E, Mori R, Matsunaga A. Effects of resistance training on muscle strength, exercise capacity, and mobility in middle-aged and elderly patients with coronary artery disease: A meta-analysis. J Cardiol. 2016;68(2):125-134. doi:10.1016/j.jjcc.2015.09.005
Kamada M, Shiroma EJ, Buring JE, Miyachi M, Lee IM. Strength Training and All-Cause, Cardiovascular Disease, and Cancer Mortality in Older Women: A Cohort Study. J Am Heart Assoc. 2017;6(11):e007677. Published 2017 Oct 31. doi:10.1161/JAHA.117.007677
Gordon BR, McDowell CP, Lyons M, Herring MP. The Effects of Resistance Exercise Training on Anxiety: A Meta-Analysis and Meta-Regression Analysis of Randomized Controlled Trials. Sports Med. 2017;47(12):2521-2532. doi:10.1007/s40279-017-0769-0
Seguin RA, Eldridge G, Lynch W, Paul LC. Strength Training Improves Body Image and Physical Activity Behaviors Among Midlife and Older Rural Women. J Ext. 2013;51(4):4FEA2.
Northey JM, Cherbuin N, Pumpa KL, Smee DJ, Rattray B. Exercise interventions for cognitive function in adults older than 50: a systematic review with meta-analysis. Br J Sports Med. 2018;52(3):154-160. doi:10.1136/bjsports-2016-096587