About Dr. True
" My approach to medicine involves restoring normal function – I work with the patient to remove any obstacles preventing this, which often allows the body to heal itself "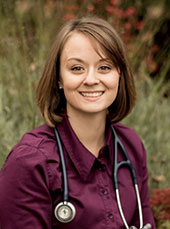 Dr. True completed her medical training at the Southwest College of Naturopathic Medicine in Tempe, Arizona, where she graduated with High Honors earning the prestigious High Academic Achievement Award.  Prior to receiving her Doctorate, Dr. True obtained her Bachelor of Science Degree focusing in Human Physiology and Chemistry from the University of Oregon.   Dr. True completed her residency here in Portland, Oregon focusing in family practice and hydrotherapy.  She is a member of the Naturopathic Medicine Institute, American Association of Naturopathic Physicians and the Oregon Association of Naturopathic Physicians.
Dr. True is a family practice physician trained in nutrition, homeopathy, botanical and physical medicine as well as hydrotherapy.  She has also had extensive training in Therapeutic and Intravenous Nutrition, Chinese Medicine, Women's Health, and Diabetes Management.
The current conventional medical model is one based on "disease-management".  Symptoms and disease are our body's way of telling us there is an imbalance – which is often nutritional, hormonal, musculoskeletal or even emotional.  Dr. True's approach to patient care involves determining what imbalances are affecting health, and aiming treatment towards reversing these obstacles, helping to restore normal function of the body and its systems.  This often helps our own bodies heal from within without the use of pharmaceuticals or surgery.
Professional Qualifications
Medical License
Licensed Naturopathic Physician, Oregon Board of Naturopathic Medicine
Education
Doctorate, Southwest College of Naturopathic Medicine
Bachelor of Science, University of Oregon (Human Physiology, Chemistry)
Vitalism Specialist
Vitalism (VNMI), Naturopathic Medicine Institute
Residency Training
Family Practice, Hydrotherapy/Physiotherapy and Chinese Medicine, Portland Clinic of Holistic Heath, National University of Natural Medicine
Professional Memberships
Naturopathic Medicine Institute
Oregon Association of Naturopathic Physicians
American Association of Naturopathic Physicians
Experience
Highlighted Experience and Recognition

Family Practice Residency with focus in Hydrotherapy and Physiotherapy including use of Low Voltage Alternating Current, Diathermy, High Frequency and Direct Current/Iontophoresis to treat acute and chronic disease, Portland Clinic of Holistic Health, 2014-2016
Fundamentals and Clinical Applications of IV Nutrient Therapy Training, International IV Nutritional Therapy, 2013
High Academic Achievement Award- Southwest College of Naturopathic Medicine, 2013
Acupuncture and Chinese Medicine Training – Southwest College of Naturopathic Medicine, 2010-2013
Maternal/Newborn Health, Primary Child Health & Disaster Preparedness in Developing Countries – Mercy In Action, Olongapo, Subic Bay, Philippines, 2012
Research: A Comparison of the anti-Staphylococcus aureus activity of commonly used medicinal plants

J. Alternative Complement Med. 2014 May;20(5):375-82. Epub 2014 Mar 17